This Page Courtesy of: Left and Write.com
Visio Stencils - Audio/Video Connectors
Author:
W. Brian Dill

You know the "For Dummies" series.
You want to know more Visio.
Put two and 2 together...

Created:
2004-01-19
Updated:
2007-04-04
Show Until:
2008-12-31
---
I couldn't find any free Visio stencils for A/V connectors on the web, so I spent a couple of hours and made my own. I figured I would share my creations with the world. Perhaps this will save you some time when diagramming audio/video components.
This stencil is freeware. If you enjoy it, please drop me a line and let me know. Better yet, send me a copy of your Visio file so I can see
your
handy work.
If you have suggestions for improvements or additions, I welcome your feedback. If you enjoy these stencils, please email me a zipped copy of
YOUR
finished Visio diagram so I can see how it is being used. Based on ideas of your diagrams, I may be able to improve upon my stencils. Thanks!
Update 2006-04-25 - Version 1.01 I've added XLR, MIDI and BNC connector (thanks to Mark A. Wilson for the BNC).
Update 2007-04-04 - Version 1.02 Added DB 9 and DB 25 by popular request, even though I don't really see how they qualify as AV. :-)


Downloads
Screenshot of verion 1.02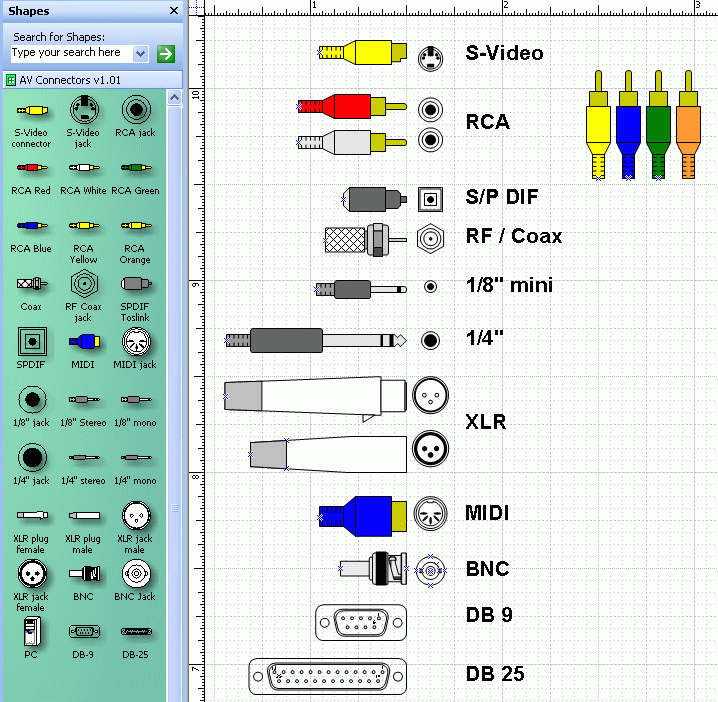 Talk Back
DB 9 and DB 25 Connectors - Jan (2006-08-25 05:53:07)
Hi Mate Do you have stencils for above somewhere? Thanks Jan jan.prinsloo@optusnet.com.au

your stencil - song (2006-06-08 11:02:11)
I love it, thanks.

2002 version - Glenn (2006-05-15 11:40:47)
Do you have a version that will work on 2002? Other than that these look great!

Ohhhh, I wish - Jeff (2006-05-10 04:39:58)
These look great. Any chance of getting a version for Visio 2002?

Thanks - JJ (2006-05-01 04:55:10)
I've been looking for such stencils for a while and found it finaly on your page. 9-pin Dsub, 15-pin HDsub, USB-A, USB-B, SATA, Kbd, Mouse, etc, etc, and other connectors the PC world is something else I'm looking for. If I have to make my own and will send them to you. Alternativly it could be great if you had a link page to others making similiar stencils.

Thanks! - Danny (2006-04-30 12:19:07)
These are great! I am spec'ing out a patch bay setup, and was getting frustrated with the result (no real way, other than labeling, to label the connects clearly in visio). Now I can make a quick glance at my diagram and all the interconnects are easily identifiable. Awesome!

Awesome - Rakesh Patel (2006-04-21 11:26:54)
Thanks very much! I wish i could make stuff like this. I cant draw!!! You're a lifesaver

a/v stencil - Dan (2006-04-02 19:55:32)
Brilliant, thank you! Let me add HD15 & DB9 connectors to the wish list...

connector stencil - m a wilson (2006-03-29 05:14:38)
good stuff. I'd like to cast a nother vote for BNC, XLR.

wow - Teresa (2006-03-20 05:52:54)
thanks - I've been scouring the 'net for something like this. Many thanks.

Stencils - Maurizio (2004-11-24 11:54:45)
I really appreciate your effort on making these stencils. Thanks a lot

Awesome! - Brandon (2004-11-17 08:04:11)
Great Job!

Stencils - John Y (2004-11-08 22:07:30)
Right on man... when all is lost... roll your own~!!! Very nice work!!

A/V STENCILS - PTSL (2004-11-03 22:33:10)
ART!! ART!! GREAT LOOKIN' PLUGS YA GOT THAR! YOUR EFFORTS ARE SO APPRECIATED! THANK YOU!

A/V Stencils - Brian Morgan (2004-11-03 15:21:31)
Nice Work.

Visio Stencils - Chris Miller (2004-11-01 10:48:59)
Thanks. Please add DB25 MALE/Female versions.

A/V Stencils - rb (2004-10-21 13:58:12)
way cool

YOU HELP! :) - Bob (2004-10-19 17:26:23)
thanks Dude! this saves me alot of time!

A/V Coonector Stevcils - CD (2004-10-18 10:16:32)
Thanks for sharing, Brian!!! I am very greatful!

Thanks!! - Ken Alford (2004-10-11 09:10:39)
Thanks for your willingness to share with us - it is much appreciated!

Cheers - Justin Williams (2004-09-27 03:47:05)
Thanks Brian, you rock!!

Great Job - Nate (2004-09-23 15:33:43)
Thanks! These helped a lot!

Whew - found it - Pete (2004-09-16 01:43:36)
Thanks Brian, I searched for over an hour before finding your stencils.

Great - Warren Sison (2004-09-15 23:33:30)
These are quite cool.

Simply awesome!!!!!!!!! - Muja (2004-09-07 22:43:43)
I recently setup my studio and was losing track of patching and signal routing!!!! Thanks!! hint-- how about a patchbay stencil?

Vsisio AV Stencils - Willie R. (2004-08-14 11:57:13)
Thanks loads for the stencils! I just set up my video equipment an was having problems trying to show how they were connected. Thanks to your stencils, I was able to make a much clearer diagram. I wish I was as creative as you!

AV Connectors - Jeff (2004-07-30 12:52:33)
I was not able to download "AV_connectors_ver1.00.vss". Could you please tell me if this link is still available? Thank you.

Thanks! - B (2004-07-13 08:41:05)
Great Job! Of course now we want more, more, MORE!

Your Stencils - Mike (2004-06-18 09:51:11)
Great work, now how about some Electronics component onesones.

Excellent stencils - Samir (2004-05-17 19:39:40)
Hey man. These stencil are great!!! Not many people in Malaysia are aware of it. I was just wondering if its suitable to be used on GTK' DIA which runs on Linux. Let me know if you need any help on this. I think publishing it on sourceforge.net would be great idea. Regards, Samir Ahshrup iceman9001@yahoo.com

Great Stencils - Pedro Cardoso (2004-04-07 05:02:02)
These stencils are really great !!! Thank you for your hard work.

Visio Stencils - Julia S. (2004-03-09 13:25:21)
Thank you SOOOOOO much! I was looking everywhere for these!!!!

Visio Stencils - Audio/Video Connectors - Tom (2004-03-04 01:07:59)
Brian, Great work, this saved me lots of time. Thanks,

a/v connectors.vss - data101010 (2004-02-19 09:59:57)
keep up the great work Brian...they look great, and are much appreciated.

A/V Stencils - Bill (2004-02-07 11:45:57)
This is great. Thank you.

thanks - john ballard (2004-02-01 13:41:32)
These work great Brian. Im work in AV engineering. Any chance you might create connectors for XLR, BNC or any other commmercial type AV stuff?



Courtesy of: LeftAndWrite.com